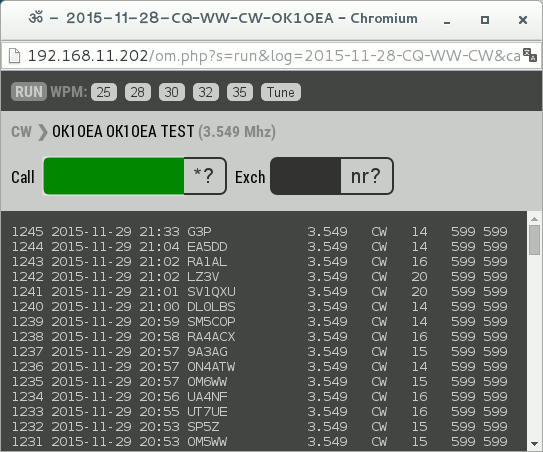 Loging and keying on remote server via web browswer. This form is very simple without additions, but allow basic work in contest.
Functionality:
RUN and S&P mode
CW keying via Arduino CW keyer by K3NG
QSO number support
change CW speed and Tune mode
ESM - Enter Send CW Message mode
form responsive by mode
automatically move cursor between two input field
read Frequency and mode from TRX via hamlib
clear rit after qso in RUN mode (Kenwood rig only)
show worked Call (in red)
ADIF log download
Changelog

2016-01 - RTTY TX support via serial2fsk
2015-11 - after press 'nr?' exchange do not clear
2015-11 - change wpm and tune don't clear input value
2015-11 - move 'Call?' button after call input field for use with Tab key
2015-11 - '*?' also check partial calls (grep)
2015-11 - redesigned GUI
2015-10 - disable autofill input forms
2015-08 - new frequency cache - if hmlib short fail
Necessary components:

Arduino CW keyer
CAT interface
Raspberry PI with RemoteQTH server
Create contest(Edit)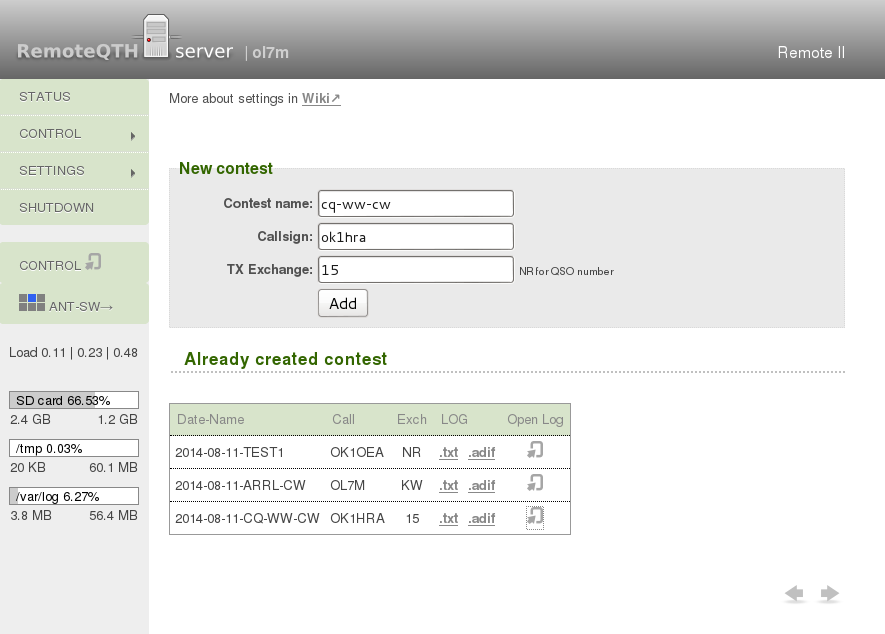 After inserting Name, Call and Exchange creates a new row in the table. Web contest LOG open after press icon on end of row.