Table of Contents
3D print rotator (revision 2023)
Source files on GitHub
I include the source file in OpenScad and several preset exports, in dimensions S, M, MS, XL. Size M is recommended, MS reduced for Prusa MK3 and MK4 printers. I also include the following data for each dimension:
BOM

Steel cover .DXF

.STL files

.3mf preset
Torque test M size
Printed parts
You can use 3D printing to order, for example at mirex3d.cz.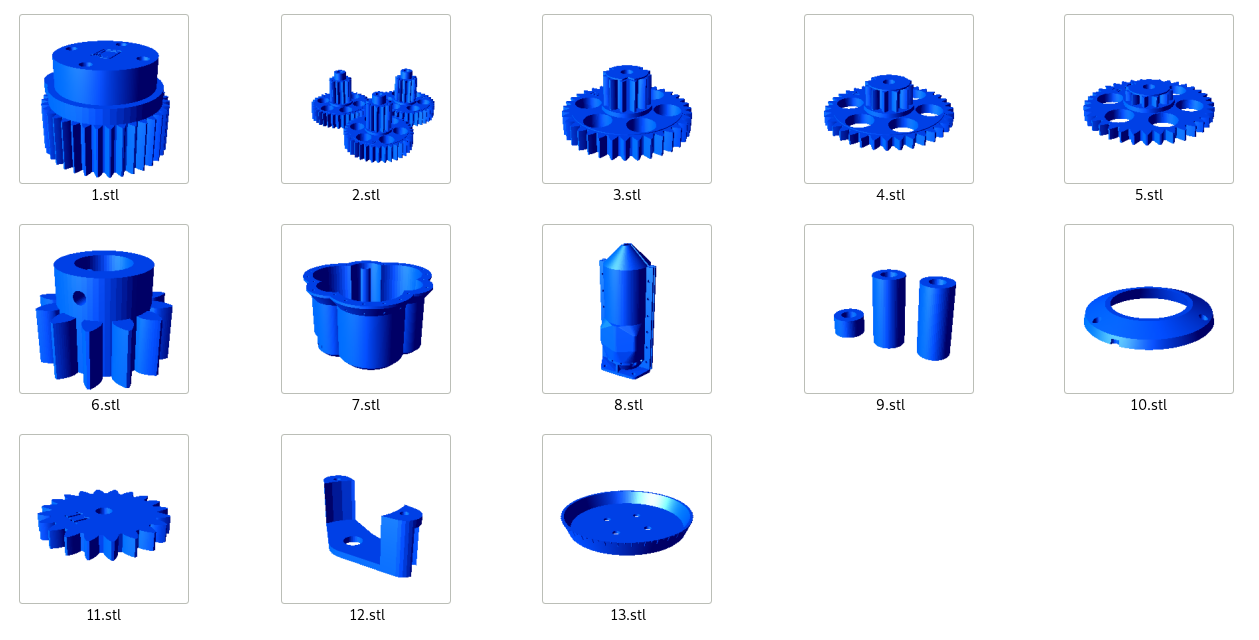 BOM
Printed parts
Prefered black PETG filament
13 pieces
Top cover 4mm thick from stainless steel
By .DXF file from GitHub depending on the size

You can order online at idilna.cz
1 piece
M3 x 6mm, allen head, stainless steel
3 pieces
M3 x 10mm, allen head, stainless steel
11 pieces
M3 nuts, stainless steel
8 pieces
M4 x 16 mm, allen head, stainless steel
32 pieces
M4 nuts, stainless steel
6 pieces
Smoothed axis 8mm (length according to size, see bom on GitHub)
4 pieces
1.9mm thick (critical size!) metal washer, Inner diameter 8.5 mm, Outer diameter 23 mm
7 pieces
M8 x 100 mm
4 pieces
M8 nuts
4 pieces
Universal transparent silicone sealant
100g
Azimuth potentiometer Bourns 3547S-1AA-102A
1 piece
Motor from PARKSIDE PBSA 12 D4 drill
1 piece
2x 1.5mm wires, 20 cm long
1 piece
3x 1.5mm wires, 40 cm long
1 piece
crimping ends for guides
5 pieces
Universal lubricant
200g
3D print box for Simple Rotator Interface V. electronics (optional)
Mounted in step 16
1 pieces
Tools
| | |
| --- | --- |
| | Drill 8,2mm |
| | Drill machine |
| | Allen key 2mm |
| | Allen key 2,5mm |
| | Key 5,5mm |
| | Key 7mm |
| | Solder station |
| | Crimping tool |
| | Vise |
| | Set for cutting threads M4 |
| | Protective gloves for applying lubricant |
---
Assembly manual, step by step
Before disassembly drill tool for extract motor, set the gear ratio to 1 (slow), and the torque to maximum (drill)

The orientation of the motor can be seen in the photo. The plastic wheel in the middle is facing up.

Close the motor using the second pulley of the plastic motor holder, and secure with a minimum of four M3x10 screws with a lock nut on each side

Press the 6.stl gear onto the motor shaft so that the side holes are directly against the depressions in the motor shaft. Then screw three M3x10 screws into the hole - screw in sensitively and stop as soon as the resistance increases - it is screwed directly into the plastic. We recommend applying secondary glue to the plastic hole before inserting the screw.

You put the metal washer on the central axis, and the low ring from the 9.stl on the opposite axis of the motor

The previous picture has the center gear turned backwards. Turn the bottom gear so that the V slot on the top faces the next gear above it. Then put gear number 4 on the axis opposite to the motor so that its V slot is facing the center axis, and slide the metal washer onto the center axis.

On the two free axes, you put on the higher printed washers of the 9th stl and on all the outer axes, you put on three metal washers.

Place the three 2.stl gears on the edge of the axle so that the number marking points to the center axle

Using a vice, very carefully press the 11.STL gear onto the potentiometer shaft as shown in the picture

Push the wires through the body of the rotator - pay attention to the orientation - they belong to the tunnel located below

Place the main stainless steel plate on the rotator body so that the outer axes pass through the plate outwards and secure 21 M4x16 screws. Tighten the screws sensitively, they are cut directly into the plastic
3d-print-rotator.txt · Last modified: 2023/10/03 06:02 by ok1hra
---