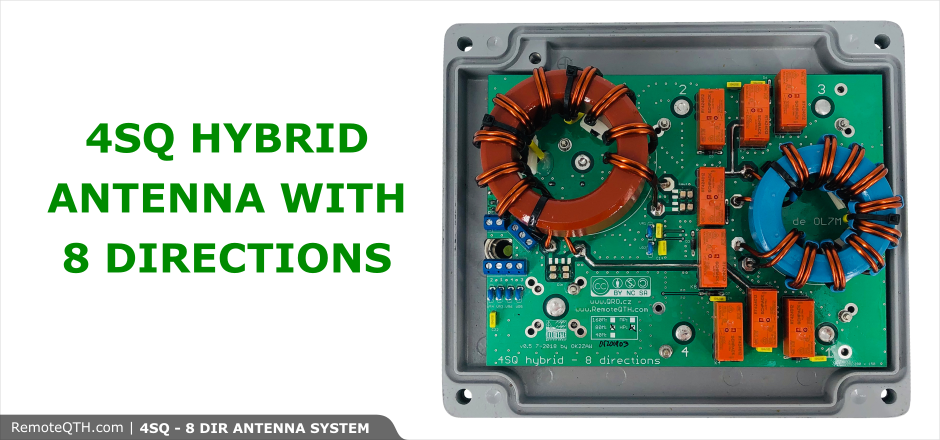 4SQ-8DIR antenna system
The four-square phased-vertical array if used by many contesters and DXers for oreration on the low bands. This construction modify a conventional four-square to provide eight directions of fire instead of the normal four. This another four directions are located at points which are mid-way between the existing four. Total of eight selectable beam-headings spaces 45deg apart. When beaming through a corner (as in conventional four-square) the current in the two middle elements lags that of the rear element by 90deg, while the current in the front element lags that of the rear element by 180deg. When firing through the sides of the square, there are two front elements and two rear elements. Now the currents in the front elemets lag those of the rear elements by 90deg.
This is 4 Square 8 Direction antenna system. Based on K3LC design
Please read this great article about 4-SQ by Franz DF6QV.
Photos by Carsten Dauer and Lucik
Main functions:
Eight directions

phased vertical array

Dummy load power indicator

info

High SWR protections

Segment switch

by the external relay info
RF hybrid box:
Power version HP

Designed for 100 Ohms! So Elements MUST have 50 Ohms in feed point

MP up to 3,5kW

HP up to 6kW

Very good dummy load

isolation. More than 25dB
Controlled by 8 wires. Simply RJ-45 UTP CAT-6 cable is fine.
High quality ATC capacitors
BIG cores T225-2B and T300-2D + QRO64-2D-61 with 2,5mm Cu wire
Quality PTFE SO-239 connector. N or 7/16 DIN connector on request
Coating spray final protection.
Stainless screws and nuts.
HEAVY duty Aluminium IP56 box.
Size 20x15 cm (feeder).
Available as

Assembled product with CONTROLLER - tested
PCB
Controller:
LED direction indicator

.

Picture - 2

LED bar SWR indicator

- power in the dummy load.

Picture - 3

High SWR protections

- break PTT loop to PA + buzzer sound.

Info

PTT loop

- Hot switch and high SWR protection.

Segment switch

by the external relay info
Parameters:
8 Directons

based on K3LC design

Designed for 100 Ohms! So Elements MUST have 50 Ohms in feed point

Dump power insulation

- better than -20dB (usually -30dB to -40dB)

Input SWR

- better than 1:1.3 (usually 1:1).

LED bar indicarot

lower indicated power around 5W.

Power supply

13,8V to 15V. With option internal power supply also 230V 50Hz.

Power supply current

less than 600mA
Frequently Asked Questions

pan>
4SQ-8DIR system includes:
RF box into the feed point

Picture

Controller.
Total parcel weight about 6 kg.
Dummy load is not included!!!.
OPTIONs:
Internal Power Suppy

230V only

Dummy load 50 Ohm

Coax cable feeding lines 75 Ohm
Example of 160M HP version:
Example of 80M HP version:
Example of 40M HP version:
Download
4SQ-8DIR system
Manual in WiKi
MANUAL
4SQ-8DIR RF hybrid ver. 0.5
sch
pcb
KiCAD

247

CONTROLLER front panel ver. 0.3
sch
pcb
KiCAD

368

CONTROLLER conector PCB ver. 0.3
sch
pcb
KiCAD

172

We believe open source is a better way of doing things.
View and download the Shield Schematic and PCB Kicad/Eagle CAD files,
LibreCAD .DXF, or Inkscape .SVG files.
The hardware designs are released under the
Attribution-NonCommercial 2.0 Generic