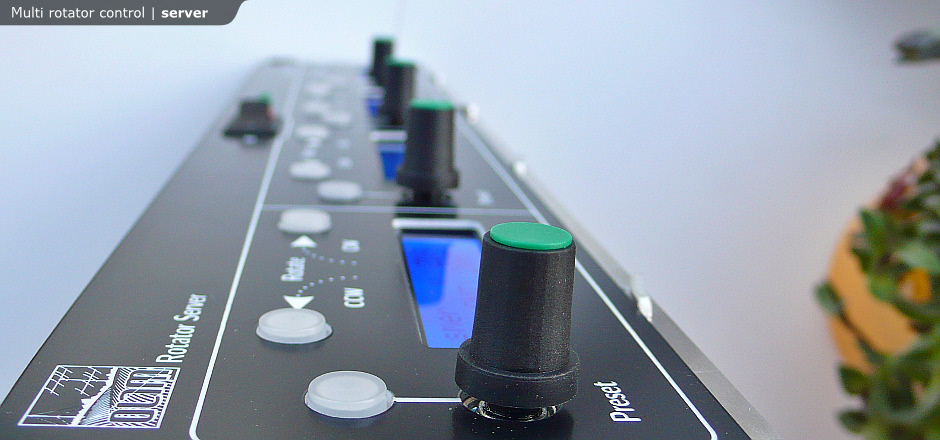 Web control four rotator, fifteen relays and many other features that come from Raspberry PI RemoteQTH server.
Developed for contest station "Policko" OL7M
Main functions:
Control the four rotators using the light buttons,
rotary encoder and with a two-line display for each rotor.
Rotator module can directly control the motor of the rotator

DC version of the phase-change
AC version switching CW or CCW winding

Or you use the relay contacts to control your control box.
24 freely configurable relay (15 in model B) (first used for server power on/off)
as single pole, single throw or single pole, more throw
- suitable for switching antennas.
GPIO interface power board associating functions

Relay switching from GPIO
DC/DC converters power supply 5V for Raspberry PI
DC/DC converters power supply 5V for four arduino rotators module.
Turns ON the first GPIO output.
Available four DC/DC converters - custom voltage power supply for each motor of rotator. In the range of 2 to 37V an max current 3A.
Include A/D converter for four voltage measurement
Expand I2C bus - available connect next temperature or voltage sensors

All in simple 2U Rack case.

Case made to measure from 2 mm aluminium.
Laser engraving plastic front panel.

Each the rotator unit interface, based on arduino (code by K3NG) contains:

LCD.
Lighting button (CW, CCW, Start).
Preset encoder.
Three relay (CW, CCW and Brake).
Arduino nano module.
Ready for AC and DC rotators.
Analog input.
5V power voltage.

Server requires a DC power supply ranging from 9 to 40 volts.
Voltage is dependent to the rotator, if we are powered motor directly from the server.
If you have a rotator AC motor, the server has terminals
for connecting the AC voltage for each rotor separately.
Another server utilization
Necessary components

Rack case.
Rapsberry PI + 4GB SD card with RemoteQTH server.
Relay board.
Four arduino rotator interface.
Usb hub with external power supply.
DC power supply 9-40V dependency to max DC rotator voltage.
AC power supply if AC rotator instaled.
Unit test:
Download
Rotator module PCB
v3.3
sch
front.brd
back.brd
kicad

1478

v3.2
sch
front.brd
back.brd
kicad

409

v3.1
sch
front.brd
back.brd
kicad

428

v2 lcd
pcb
sch
eagle

454

v2 base
pcb
sch
eagle

426

Arduino firmware
by K3NG
stable
unstable
doc
pins.h

671

Raspberry PI GPIO interface PCB
Model RPI2/B+ v2.2
sch
brd
kicad

334

wiki
Model B+ v2.1
sch
brd
kicad

338

Model B v1.2
sch
brd
kicad

312

I2C temperature sensor PCB
v1.0
sch
front.brd
kicad

353

2U rack case (19-inch x 2u (3.5") x 9.5")
Version 6
full.DXF

342

DXF4cutter

363

Version 4
full.DXF

376

DXF4cutter

396

wiki
Front panel design (inkscape)
svg
Open-Hardware
We believe open source is a better way of doing things.
View and download the Shield Schematic and PCB Kicad/Eagle CAD files,
LibreCAD .DXF, or Inkscape .SVG files.
The hardware designs are released under the
Creative Commons Attribution-ShareAlike 4.0 International License
Users implementation