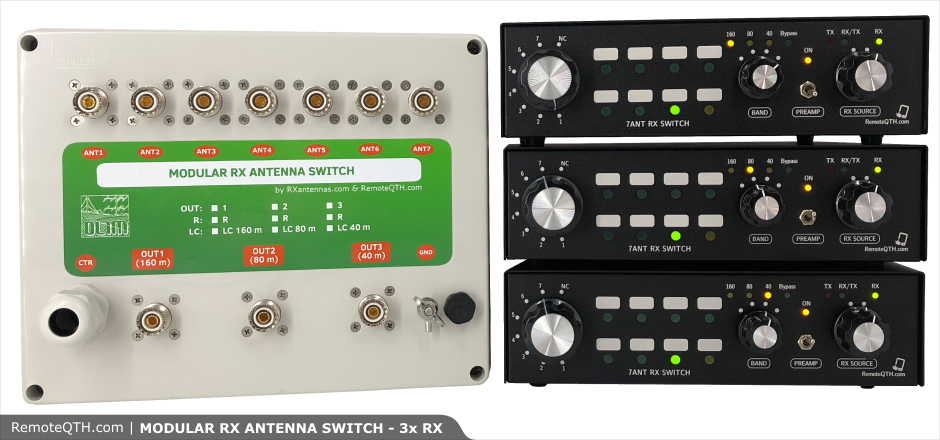 Modular 7 ANT RX switch with controller and more RX outputs
This is modular 7 RX antenna switch. It allows you to use up to 7 independant RX antennas (beverages, Bi-dir beverages, RX loops etc.). You can use just one board for single RX output or up to three boards for three independant RX. Also ANT ports could be open or connected to dummy load. There is 50 or 75 ohms one and also LC BPF isolation for that for multi stations and Bi-dir beverages with two outputs. You can use controller with BPFs and preamp, protections and RX way switching. Also two independant RX per band are possible with optional 7 ANT RX SPLITTER.
This is ideal solution for Single OP through SO2R to Multi-Multi, with up to 2 independant RX per band!
Main functions:
Modular 7 RX ANT switch

Broadband

Low insert loss

High Isolation

Internal dummy loads 50 or 75 Ohm / 2W

Simply LC BPF for dummy load isolation

Internal high voltage/current protections

Electrostatic protection with glim lamps.
Stainless screws.
Quality PTFE SO-239 connector or N on request. Adapters PL239 to F
IP56 box. Protect against standing water and snow.
Size 25x20 cm.




Controller

More:

link

Manual rotary switch 7 RX ant + off

Three bands BPF + BYPASS

Ext RX ANT switch for TRX

Internal PCB

Three BPFs for 160m-80m-40m and bypass.
High IP3 preamp with 2N5109.
variable ATT allows set gain of preamp.
In/OUT protections.




Splitter - optional box for two RX per band

More:

link

Broadband: 0.1 MHz to 60 MHz
Splitter or Combiner
Low loss
Protections- high voltage / current
50/75 ohm impedance - easy jumper switch
CONFIGURATION EXAMPLE
More:
in manual
Band Pass Filters characteristic:
Band Pass Filters characteristic with preamplifier:
Option - Common-mode current choke to ham shack:
Link to CMCC
Some examples from manual:
You can see more detailes in manual
Download
7ANT RX SWITCH
Manual in WiKi
WiKi
RF Switch board rev 0.2
sch
pcb
KiCAD

184

Controller front panel
sch
pcb
KiCAD
Controller connector panel
sch
pcb
KiCAD
Controller RX way switching
sch
pcb
KiCAD
We believe open source is a better way of doing things.
View and download the Shield Schematic and PCB Kicad/Eagle CAD files,
LibreCAD .DXF, or Inkscape .SVG files.
The hardware designs are released under the
Attribution-NonCommercial 2.0 Generic
Users photos