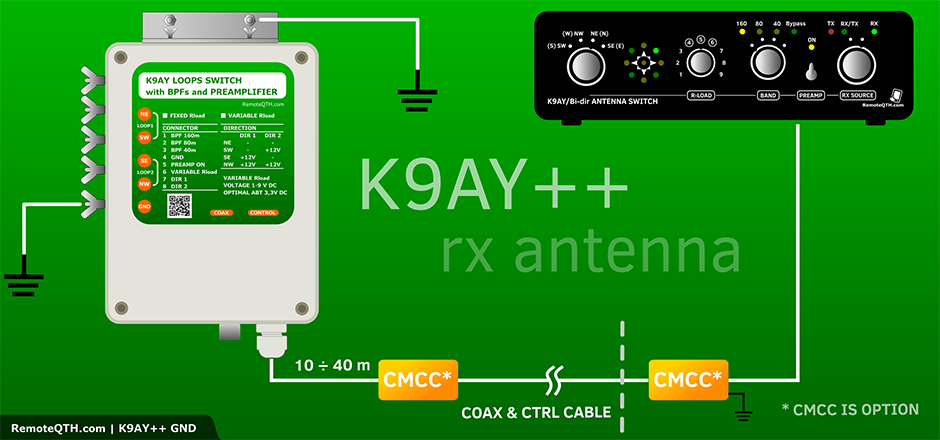 K9AY++ RX antenna system with BPFs, Preamp, Controller and much more
The K9AY is terminated loop. It consists of a wire loop of any convenient shape (diamond, delta, etc), hung from a single support and with a ground rod at the bottom. A 9:1 impedance-matching transformer is connected from one end of the loop to the ground and a terminating resistor is connected the other end of the loop to the ground. This antenna is directional. Favoring signals are arriving from the feed point end. You can also change the antenna far field by changing RLOAD (RTERM) of the loop. This set including the RF feeder box and the controller.
Main functions:
Low Noise RX antenna

Broadband
4 directions
Needs small room
Great for portable operations
50/75 ohm feed line version
Good for phasing more pieces into the array

PREAMP

with

variable gain 0 to 18dB

Three switchable BPFs

or

BYPASS

RX protections

in feeder and controller

RX source switch

for TX and RX antenna
RF feeder box:
ONE versions for

Variable load resistor - RLOAD
Fixed load resistor - RLOAD
Easy to set by one JUMPER

Manual page

Common-mode coax choke

included.

High voltage electrostatic protection

with neon lamps.

High power IN/OUT protection

with PTC.
Controlled by RJ-45 UTP CAT-6 cable.
Stainless screws and nuts.
Quality PTFE SO-239 connector. N or F connector on request
IP56 box.
Size 20x15 cm (feeder).
Available as

Assembled product with CONTROLLER - tested
PCB
Controller:
Universal box for K9AY or 4-way Bi-Dir beverage system

LED direction indicator

0 or 45 deg.

Picture

Rload variable

in 9 steps by the switch on the front panel.

Three BPFs and Bypass

- 4 positions switch on the front panel.

Preamplifier

switch and LED indicator.
K9AY++ system includes:
RF box into the feed point of the ANT loops

Picture

Aluminium holder

Picture

Controller

Picture

DC cable with ferrite tube and two adapters SO-239 to F
Two adapters SO-239 to F
Common-mode controller cable choke
Total parcel weight abt 2 kg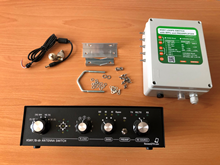 All parts

Optional Common-mode current choke for coax and control cable
Optional box

Link

Coax cable current isolator
Common mode current isolator also for control cable
You can use part of FTP CAT-5 cable from antenna to this optional box as GND system
Recommended to place it into the hamshack too.

Picture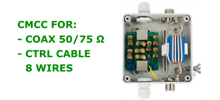 CMCC-CTRL for K9AY++

Band Pass Filters characteristic:
Band Pass Filters characteristic with preamplifier:
Videos
Users' photos
Download
K9AY
RF BOX Manual in WiKi
WiKi for RF BOX
CONTROLLER Manual in WiKi
WiKi for CONTROLLER
rev 1.8
sch
pcb
eagle

160

We believe open source is a better way of doing things.
View and download the Shield Schematic and PCB Kicad/Eagle CAD files,
LibreCAD .DXF, or Inkscape .SVG files.
The hardware designs are released under the
Attribution-NonCommercial 2.0 Generic