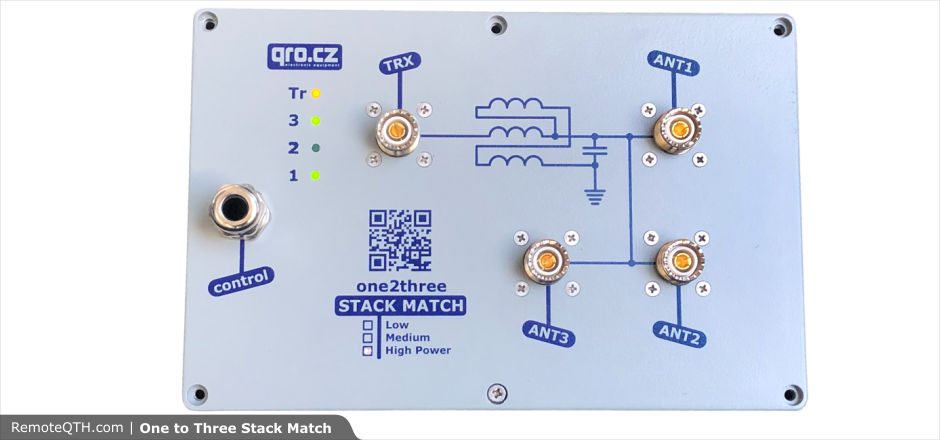 Antenna one to three STACK MATCH by OK2ZAW
two or three antennas or to split driving power into more PAs for the multibeaming.
It will provide the user with all combinations of antenna selection.
Could be controlled independently for RX and TX - depends on controller.
Works with Mono-band antennas as well as Tri-band and Multi-band antennas!
Main functions:
Three outputs to one input.
High quality PCB 2mm
Own cores with low loss.
QRO64-61 for power up to 3kW.
QRO64-2D-61 for power up to 5kW. Cores link
Connectors PL-259, N or 7/16 female with gold plated.
High quality ATC RF capacitors
Power consumption < 3W.
Aluminium shield enclosure.
Aluminium mounting holder with bracket.
Size 190 x 120 x 150 mm
Weight 1.4 kg
Three versions:
Two versions:

Medium

High Power
Power handling *
< 3 kW
< 5 kW
Frequency range
1,8-50 MHz **
1,8-50 MHz **
Characteristic impedance
50 ohm
50 ohm
Relay version
12 V DC
12 V DC
PCB thickness
2 mm
2 mm
The measured values:
VSWR

IN
to
ANT1
VSWR

IN
to
ANT2
VSWR

IN
to
ANT3
VSWR

IN
to
ANT1 + ANT2
VSWR

IN
to
ANT1 + ANT2 + ANT3
*) Normal CW, SSB, RTTY DX operation. In contest mode: CW, SSB 75% and RTTY 50% of HF power.
**) Please specify during the order. We can optimalise transformer for low bands, high bands or 6m.
Matrix table
Stack match Inputs
Selected
A1
A2
A3
Balun
A1
+
-
-
-
A2
-
+
-
-
A3
-
-
+
-
A1+2
+
+
-
+
A2+3
-
+
+
+
A1+3
+
-
+
+
A+1+2+3
+
+
+
+
+ 12 or 5V / - NC
Download
Stack match
High Power v5.1
eagle

162

Low & Medium v2.0
pcb
sch
eagle

141

High Power v1.0
pcb
sch
eagle

144

We believe open source is a better way of doing things.
View and download the Shield Schematic and PCB Kicad/Eagle CAD files,
LibreCAD .DXF, or Inkscape .SVG files.
The hardware designs are released under the
Attribution-NonCommercial 2.0 Generic