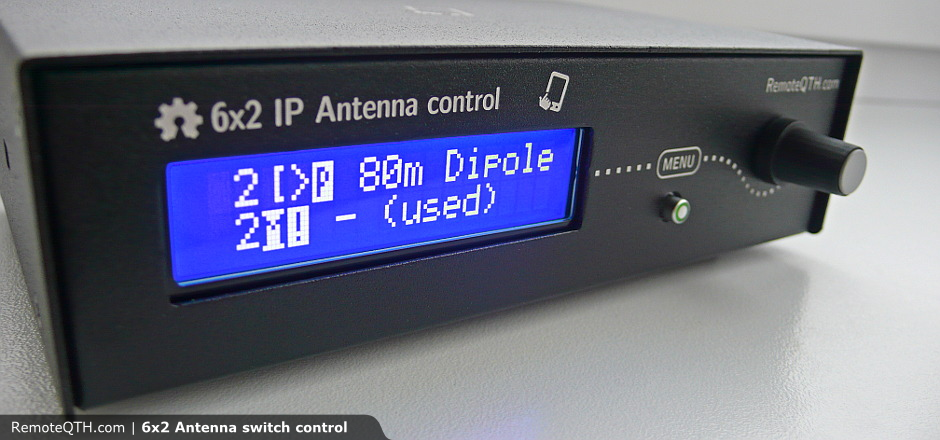 6x2 Antenna switch IP control
This unit reads BCD band data from two transceivers and automaticaly switches antennas with colision protection and blocking power amplifier during PTT active - hot switch protection. Could be controlled also from simple web interface or manualy from front panel knob
Designed for

Main functions:
Avoids collisions

- blocks two TRXs on same Antenna output.

Blocks during PTT - hot switch

- can not change antenna output, if PTT is activated.

Disconnect PTT line

- if collision detected.

Three ways

of control

BCD band data.
Manually.
IP remote via simple web interface (if optional ethernet module instaled).

Outputs control LOW or HIGH - selected by internal jumper and IC - see manual.

ULN2803A open collector driver - switching antenna relay with grounded outputs.
UDN2580A supply 12V power driver - switching antenna relay with 12V power outputs.

Measured input DC power voltage - because the same power is used for antenna relay switching, low voltage warning is shown on the LCD screen.
Two TRX.
6 antennas.
Output connector included power for switch - all in one cable.
BLOCKED

More inpunts in same time = select only one antenna for each TRX.
Colision between TRX and the same antenna (antenna in use).
Switching during PTT ON (HOT switch protection), separately for each TRX.

SHOW on LCD

Antenna number output
Colision
PTT ON
Name of the antenna
Manual(parking) or BCD input activate

Two line LCD, one for each TRX.
12-15V DC power (13,8V recomended) .
160x110x50 mm size.
340g weight.
How does it work:
Download
Third party software

For controlled by logging programs as N1MM+ or Wintest, Markus DK5AX wrote a amll programm that translates between the "Open Two Radio Switching Protocol (OTRSP)" supported in the logging SW and the IP Antenna Switch Control. Operators interested in this functionality may contact Markus by email (dk5ax at darc.de).