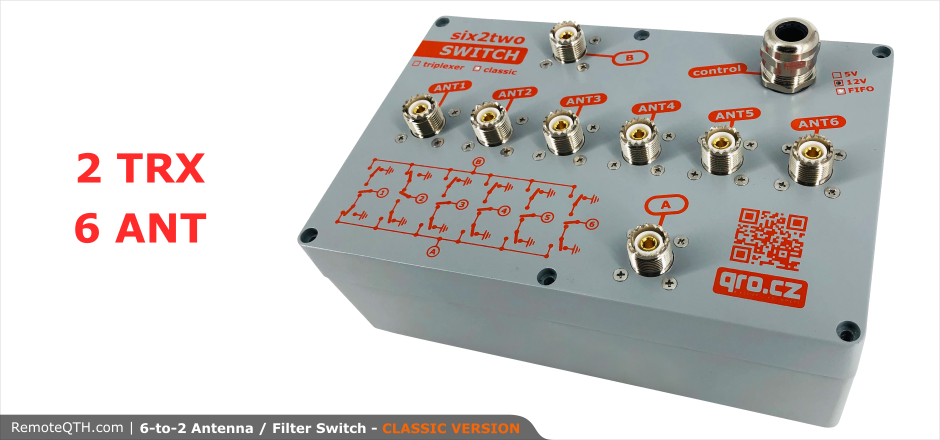 Antenna six to two (SIX2TWO) RF switch MK2 with also BCD inputs
This is universal antenna, filters or TRX switch. Version MK2 with higher isolation and new hazzard protection board. There are also BCD inputs with optocoupler isolators, high voltage protection and BCD is compatible with TTL logic and up to 15V DC. BCD data with voltage more than 13 V DC could directly supply relays.
Main functions:
Six ports switchable to two inputs / outputs

Frequency range DC-60 MHz

Characteristic impedance 50 Ohm

High isolation and low insertion loss

Power rating DC to 30 MHz

3 kW continue wave

4 kW PEP (SWR < 1:1.7) (tested with OM-4000)

Control positive DC 2 x 6 or 2 x BCD

Hazzard board protection with 2 x 6 and BCD inputs

First-Win logic

Without DC power the antenna ports are grounded.

High quality RF PCB thickness 2 mm.

Connectors SO-239 or N.

Aluminium enclosure

Aluminium mounting holder with bracket (pipe max 52mm).

Size 222 x 145 x 75 mm
Parameters:
Frequency range DC-60 MHz

RF power up to 4 kW

High isolation between A and B ports: 100dB (20m), >90dB (10m) - no port selected

High isolation A-1 and B-2: >100dB (80m), >84dB (20m), >74dB (10m), 64dB (6m)

High isolation A-4 and B-1: >100dB (80m), >87dB (20m), >77dB (10m), 67dB (6m)

Insertion loss better than 0.04dB (10m), 0.02dB (20m)

Control DC 2 x 6 wires + 12 to 15 V or

picture

Control 2 x BCD + 3 to 15 V (TTL compatible or direct 13 to 15V BCD)

picture

When the BCD voltage is higher than 13V, it directly supplies the relay

BCD inputs with optocouplers and protections

BCD inputs wide range 3 to 15 V DC

BCD inputs with positive control

compatible with OM-power, Microham. Pull up for open colector. picture

BCD current

3V3 = 2 mA, 5 V = 4 mA, 9 V = 8 mA, 12 V = 10 mA (external 13,8 V)

Supply current for 13,8V

up to 150 mA
Isolation example:
TRX A output power 1kW = 60dBm
isolation to port B is 80dB -> 60dBm - 80dB = -20dBm
~ 10uW at TRX port B
Do NOT forget to:
Isolation between antennas!
The safe power isolation is not only about the switch isolation!
Never switch relay during TX!
The measured values
Connection:
You can use 2 x 6 + GND = 13 wires (12 to 15 V DC)
You can use 2 x BCD (TTL) + GND + 13,8 V = 8 wires
You can use 2 x BCD (> 13 V) + GND = 7 wires
BCD inputs are compatible with OM-power and Microham BCD out
Compatible with OM-power amplifier
Manual page 51 (ANT/BPF DB15)
Devices with the open collector needs external pull up resistors
picture
The control voltage can range from 3 to 15 V. In case it is lower than 12V, the power supply for relay control (+12 V) must be connected. You need 5 wires for one TRX. If the BCD voltage is higher than 13 V, no additional voltage needs to be connected. 4 wires are needed (for each TRX). If you are using a long control cable, you can use the >12 V control BCD voltage and also connect >12 V to the +12V connector.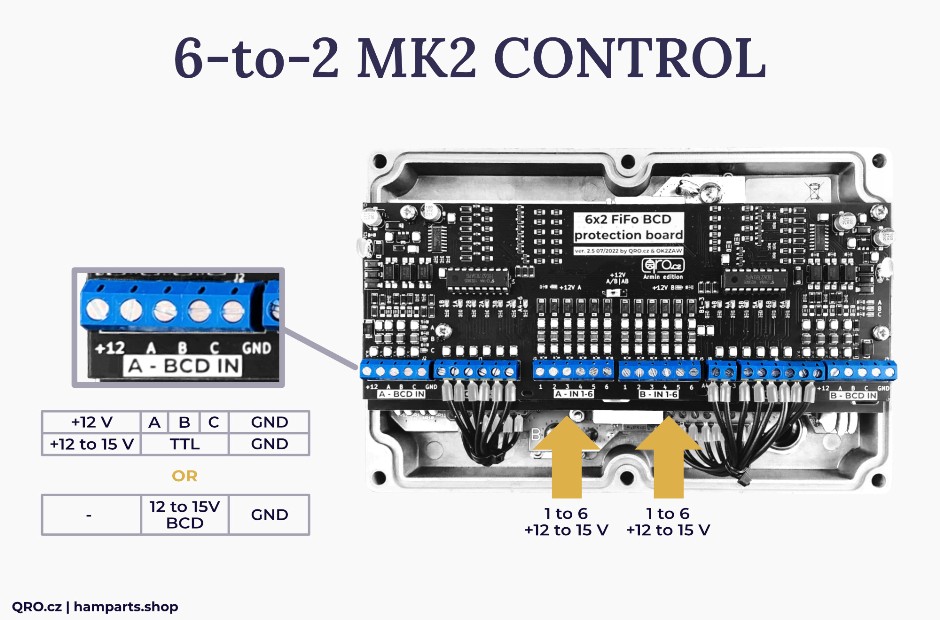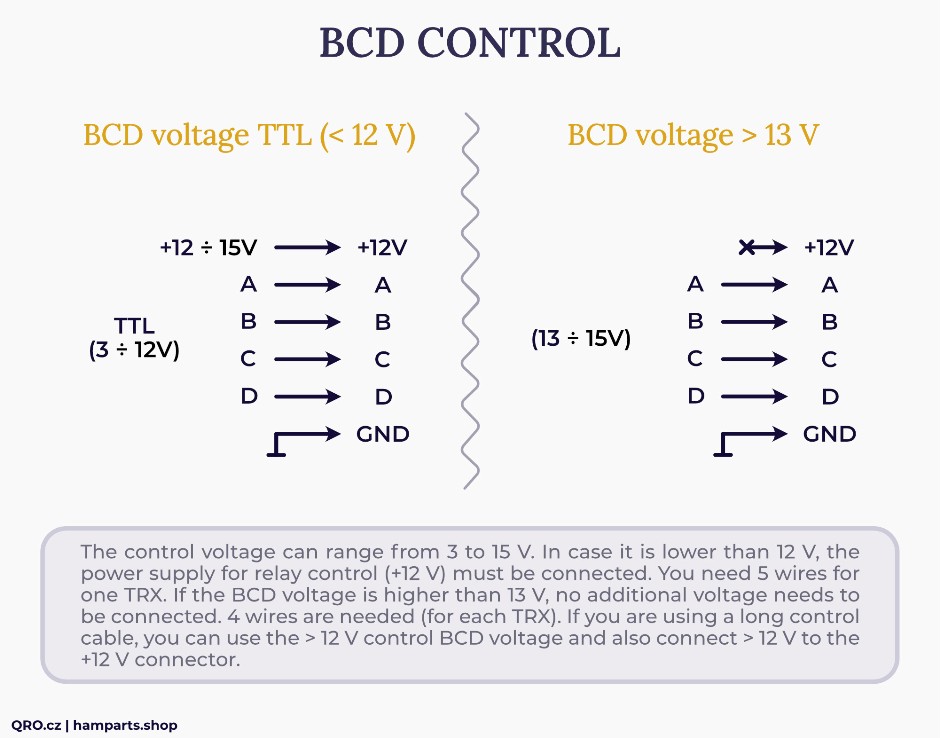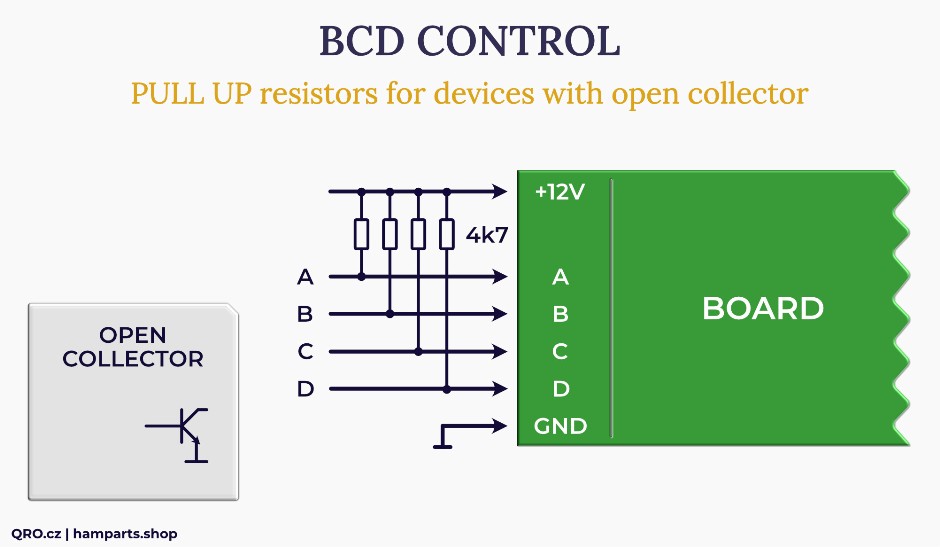 Examples: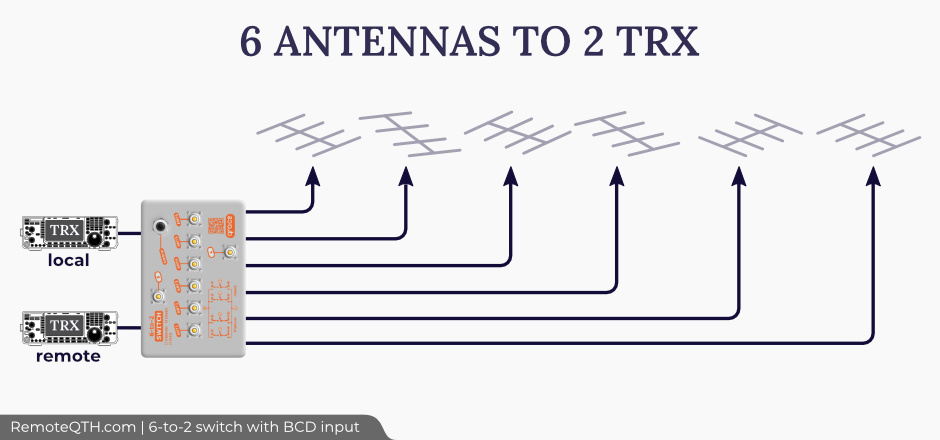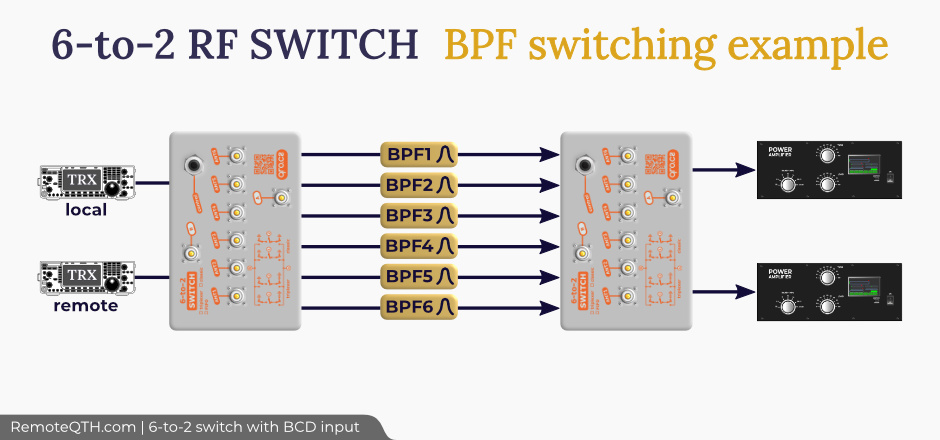 Related products:
Third party software

by Larry K8UT, WEB page here
FreqEZ is a Do-It-Yourself hardware/software project that provides highly configurable Band Decoding and Remote Antenna Selection. For amateurs who use N1MM+ and DXLab logging software, FreqEZ will leverage those programs TCP/UDP broadcasts for antenna switching. For other amateurs, FreqEZ can connect to the BCD band outputs available from most transceivers. The FreqEZ software and is freely available to all hams, and consists of a pair of programs that run on the Windows and Raspberry Pi Raspbian operating systems. Watch a short (5 minutes) FreqEZ Overview video HERE